This article uses sounds and videos
The tradition of religious diversity in India
The secular state tradition in India is strong and very much alive in the capital Delhi. This freedom to practice any religion dates back hundreds of years. What can we learn from India? And how is this tradition governed today?
Delhi is located in the Northern part of India.
At a ceremonial level - If you look at the central avenue, the Chandni Chowk, going back 350 years. You can hear the azan from the mosque. You can hear the tempel bells from the Hindu tempels and the hymns from the churches and the worship of Godavari Maha.
Secularism is among the basic principles of India's constitution. It includes protection agains discrimination on the basis of religion and freedom to practice ones religion.
People in India have so many markers - one of these is religion. But when you reduce a private concern to a public one you lose out on something.
We all think we know what it means to be a Muslim, a Christian or a Jain. But we are not so sensitive to the various layers that have gone into the lived religion, which has been borrowed from a common pool.
The religious diversity we find in Delhi reflects the diversity in India as a whole.
In December 2019, the Government of India passed the Citizenship Amendment Act (CAA), that stirred controversy and protests across India. Protesters referred to the secular constitution of India.
Peaceful and creative demonstrations were carried out in Delhi against what was perceived as a threat to the secular constitution of India.
Religious diversity is expressed in the public space and religious practice is a part of the everyday life.
It is not just the large temples and the mosques but also the small shrines by the roadside which gives people solace - where they can stop and pause for a little while.
This is why a place like Delhi is known by the name Hazirat Delhi - the holy city of Delhi.
The marigold flower is used in the practice of many different religious traditions in India.
The marigold flower is used in the Hindu religion but also in Christianity and other minority religions in India.
Watch full video documentary
Questions for reflection
How is religious diversity visible in your local community? I.e. places of worship (buildings and shrines) festivals, clothing, food, music etc.
How do you get to know about other religions in your local community? I.e. teaching in schools, through friends and family, by visiting other religious buildings etc.
Other films and stories on interfaith
These video and photo stories include learning materials for use in education.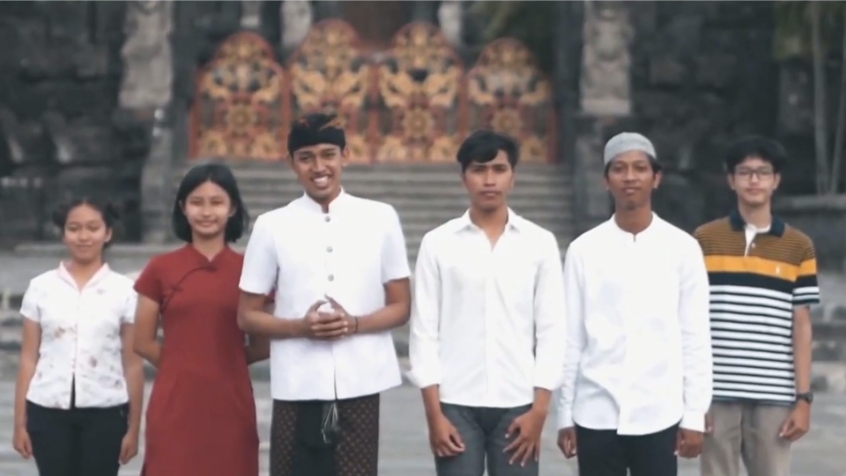 Bali deal with religious diversity both in the community and within a family
More information about Diversity and Civil society
Find more resources on education about diversity here
Contributors and sponsors
Thanks for financial support from the Norwegian Ministry of Foreign Affairs and Norwegian Agency for Development Cooperation (NORAD)

Thanks to our partners and contributors, including: